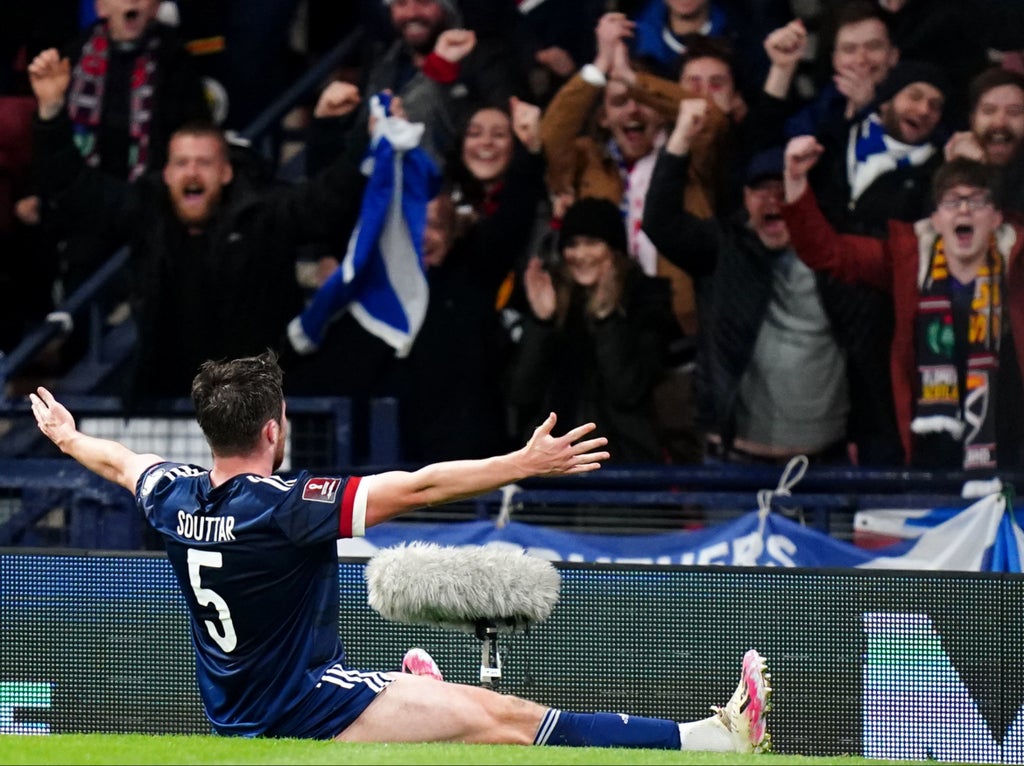 World Cup spot is "guaranteed" says Portugal coach Santos despite Serbia shock
Scotland welcome Denmark to Hampden Park this evening as Steve Clarke's side look to end their World Cuping campaign on a high note, having already sealed a place in the play-offs ahead of next winter's tournament in Qatar.
Scotland's 2-0 victory over Moldova on Friday ensured Clarke's team will finish in second place in Group F, with tonight's opponents Denmark guaranteed to win the pool. The Danes have won all nine of their qualifying fixtures, having beaten Scotland 2-0 in Copenhagen back in September – though the scoreline could have been much more lopsided against the Scots. Still, this is no dead-rubber for Scotland, who are now aiming to finish as one of the six best second-placed sides, which would give them a seeding in next March's play-off games. A result here could significantly boost Scotland's hopes of achieving a home semi-final draw in those play-offs, so Clarke and his players will be keen for a sharp performance in front of the Hampden Park faithful this evening.
Scotland's presence at Euro 2020 this summer marked their first appearance at a major tournament since the 1998 World Cup, so qualifying for Qatar 2022 would see them play at a world championship for the first time in 24 years.
Follow live updates from Scotland vs Denmark below.
1637010569
Scotland 1-0 Denmark
67 mins: Midway through the second half and Scotland are on their way to a sensational victory as it stands. The phone lights are out in force from the thousands in attendance – they're in a party mood.
But it's heart in mouth stuff for a moment as one, two, three Denmark shots are blocked from inside the box. Souttar then rises highest to head a couple of crosses away before Scotland relieve the pressure by winning a throw.
Dylan Terry15 November 2021 21:09
1637010440
Scotland 1-0 Denmark
This has been an excellent battle this evening. McGinn getting the better of it.
Dylan Terry15 November 2021 21:07
1637010397
Scotland 1-0 Denmark
64 mins: The crowd are on their feet once more as McGinn lobs a delicate ball into the path of Adams. He takes it down and thumps a low drive against the base of the post and then the assistant referee's flag goes up.
Replays show he was perhaps a shoulder's width offside.
Dylan Terry15 November 2021 21:06
1637010275
Scotland 1-0 Denmark
62 mins: NOW THAT WOULD HAVE BEEN SPECIAL.
O'Donnell's throw-in is chested down by Gilmour and he takes a speculative shot on the bounce. For a moment it looks destined to loop over Schmeichel but at the end of the Leicester man is able to pluck it out of the sky.
The crowd would have lost it had that gone in.
Dylan Terry15 November 2021 21:04
1637010180
Scotland 1-0 Denmark
Denmark do only have 400,000 more people in their population than Scotland (according to a quick Google). So would this really be that much of an upset? I mean, yes, but an interesting point nevertheless.
Dylan Terry15 November 2021 21:03
1637010064
Scotland 1-0 Denmark
59 mins: Olsen cuts the ball back and delivers an inswinging ball which Cornelius attacks but Souttar sees him all the way and it harmlessly rolls out for a goal kick.
Denmark slowly getting on top although (offside header aside) they are still yet to create anything substantial.
Dylan Terry15 November 2021 21:01
1637009913
Scotland 1-0 Denmark
57 mins: SUBS! Sisto is on for Larsen and Jonsson has made way for stage. Double change from Hjulmand as he looks to shake things up.
Dylan Terry15 November 2021 20:58
1637009819
Scotland 1-0 Denmark
54 mins: WHAT A SAVE! The flag is up but let's just appreciate the save from Craig Gordon.
It's lofted into the left-hand side of the penalty area and when Larsen heads back across goal Cornelius plants a header towards the near post only for Gordon to tip it away superbly! There was an offside in the build up, but the Scotland number one had no idea.
Dylan Terry15 November 2021 20:56
1637009724
Scotland 1-0 Denmark
53 mins: Bit of space opening up in between the lines of Scotland at the start of this second half. Christensen drifts into a pocket and looks to find Larsen out on the left but he overhits the sweeping pass.
Denmark just enjoying a spell of possession here.
Dylan Terry15 November 2021 20:55
1637009572
Scotland 1-0 Denmark
51 mins: It's a carnival atmosphere at Hampden Park right now. If they do win this game, Steve Clarke would become the first Scottish manager to win six games in a row since Alex McLeish.
Dylan Terry15 November 2021 20:52