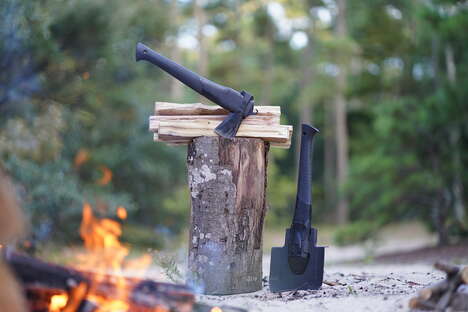 The 'Adventure Mate AM-V2' is truly a unique camping multi-tool, bridging the gap between full-size tool and compact multi-tool.
The 'AM-V2' features a single handle with five changeable heads. Typically in multi-tools, we see objects like knives and screwdrivers, but the 'AM-V2' innovates this market to include an Ax, Saw, Shovel, Hammer, and Tent Peg Hook, all in one tool. For camping convenience, the handle and all associated tools fit in one compact carrying holster.
'Adventure Mate's AM-V2' provides adventurers with the tool for any camping, adventure, or emergency situation requiring a tool. There are currently two color options available for the 'AM-V2,' named 'Stealth Black' and 'Desert Sand.'
On top of this, the 'AM-V2,' all five of its tools, and the carrying holster are manufactured right in the United States. Plus, 'Adventure Mate' vows to plant five trees for every one tool sold.
Image Credit: Adventure Mate