With TI10 qualifiers done and dusted off and all 18 teams decided, let's take a look at team and hero stats for all six qualifying regions.
All data was taken from datDota.
Qualifiers for TI10 have concluded and we have 18 teams traveling to Bucharest to battle it out in the biggest Dota 2 event of the year. The top 12 teams in the DPC system received direct invitations, while the bottom six had to do it the hard way. The teams that passed the qualifiers were:
Eastern Europe: team spirit
South America: SG Esports
Southeast Asia: Fnatic
North America: immortal
China: Elephant
Western Europe: OG
A total of 291 games were played in all six regions for the TI10 qualifiers. Let's take a look at the team and hero stats for all matches.
Team stats for TI10 qualifiers
For the team statistics, the winner and runner-up from each region were chosen.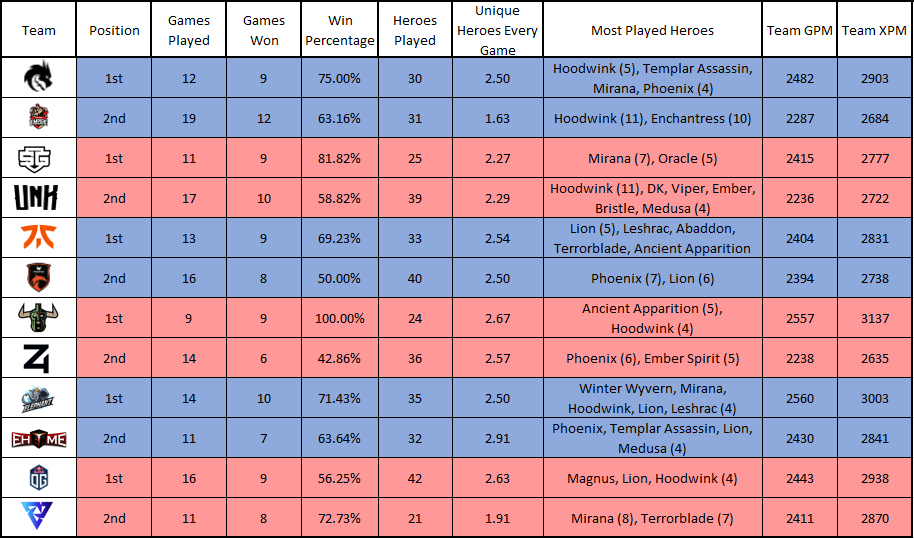 Hero stats for TI10 qualifiers
Total games played: 291
Total Heroes Chosen: 110
Number of unselected or non-banned heroes: 7
Most Chosen Hero: Leo (125 games, 61 wins, 48.80% win rate)
Most disputed hero: Nyx Assassin (232 games, chosen or banned in 79.73% of games with 86 choices and 146 bans)
Most Banned Hero: Broodmother (128 games)
Hero with the highest win rate (20 games or more): Invoker (56 games, 37 wins, 66.07% win rate)
Hero with the lowest win rate (20 games or more): Void Spirit (28 games, 7 wins, 25% win rate)
Three months after TI10, the release of Dota 2 patch 7.30 is imminent. However, what the qualifiers showed is that the current patch is quite versatile as there were more than a few new heroes showing up, different for different regions. The icing on the cake was that OG moved to position 5 Naga Siren and half Pangolier to gain them the chance to defend their Aegis; but that's what OGs are famous for: breaking the meta.
The star of the show was likely Hoodwink, who was the second most chosen hero (118 games) with a 53.39% win rate. The latest hero introduced in Captains mode, Hoodwink hasn't seen much use in DPC leagues, but with some small buffs, boosted from AniMajor, ESL One Summer, all the way to TI10 qualifiers.
The three-month break after TI qualifications is something unprecedented. Generally, the air is loaded with anticipation for The International after qualifying ends, but this year it is bound to fade a bit. Hopefully, once the patch arrives, third-party tournament announcements will come with it by now at The International. One can only hope!